Spanish English Translator
Translator App – Learn to Communicate in English or Spanish
If you are a Spanish or English speaker looking to learn English or Spanish respectively then this translator app can be a great ally for you. Spanish English Translator is a useful app which enables you to find the translations for words and sentences in Spanish to English and vice versa. It makes it easy for non-Spanish speakers to converse with Spanish speakers without encountering any difficulty. You just have to enter the word or sentence that you want to say to a Spanish speaker in English and you will get the Spanish equivalent for it within a second. This app is just as useful for Spanish speakers too who aren't familiar with English. It lets them translate words in Spanish into English with consummate ease.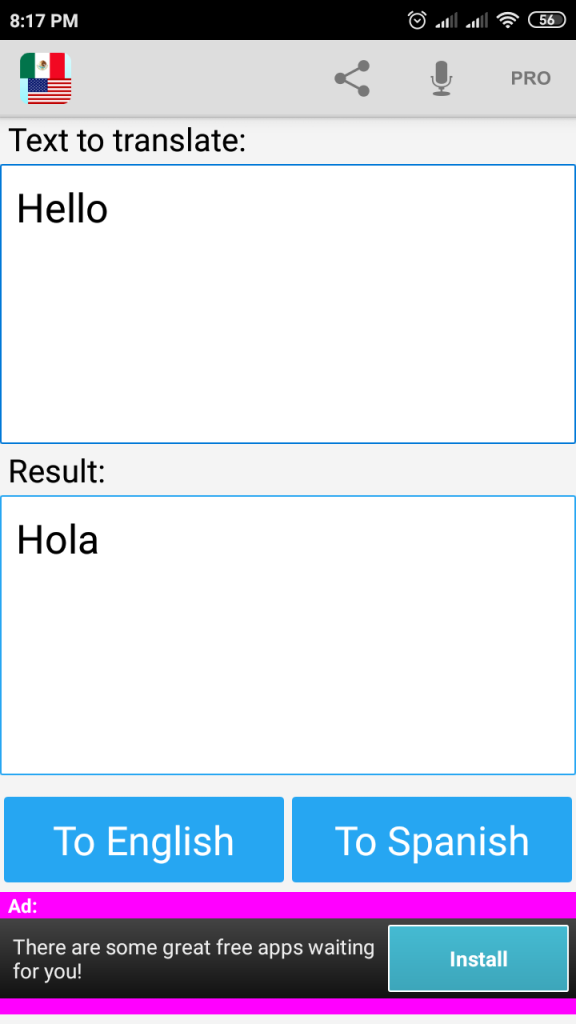 Spanish English Translator has an intuitive user interface which is very easy to interact with for just about anyone. Its user-friendly design and layout mean that you won't have any issues in finding the various features that this translator app has in store for you. The home screen provides two separate text editors to you. One of the text editors is for entering the words or sentences that you want to be translated into English or Spanish. The other text editor is for showing the translated words or sentences in the language of your choice. So, if you want the translation to be in Spanish, you will have to enter the text in English. Conversely, for getting the translation in English, the text needs to be entered in Spanish.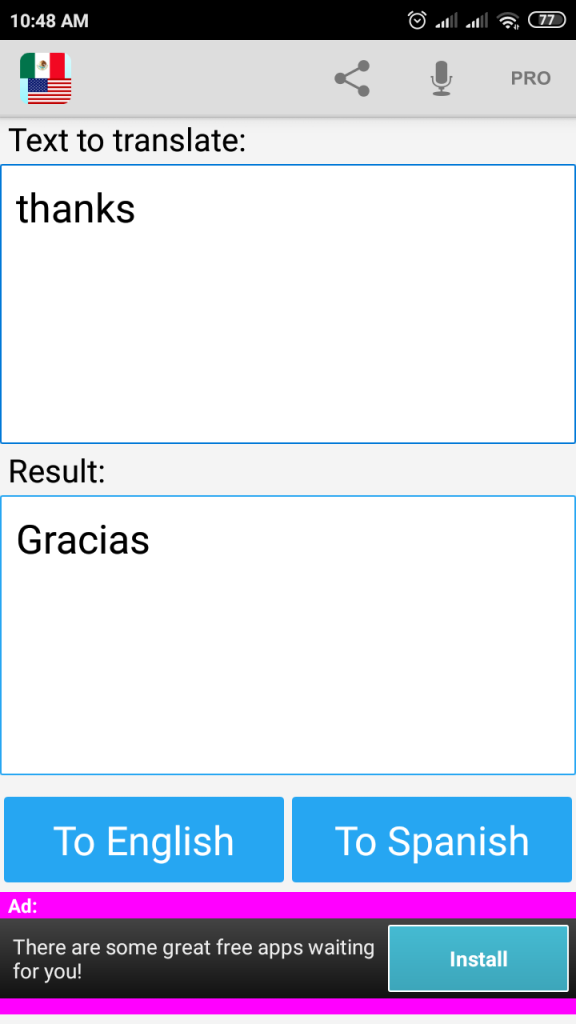 This translator app provides multiple ways to enter text into the text editor. You can use the keyboard of your phone for this purpose and manually enter the words in Spanish or English. Moreover, you are also given the chance to enter the words via voice input method. There is a microphone icon located at the top-right corner of the app's home screen. You need to click it in order to activate the voice input method. After doing that, you can speak the words in English or Spanish and the app is going to write them down in the text editor. This method is ideal for people who have weak eyesight or struggle with spellings and don't know how to type certain words using the phone's keyboard.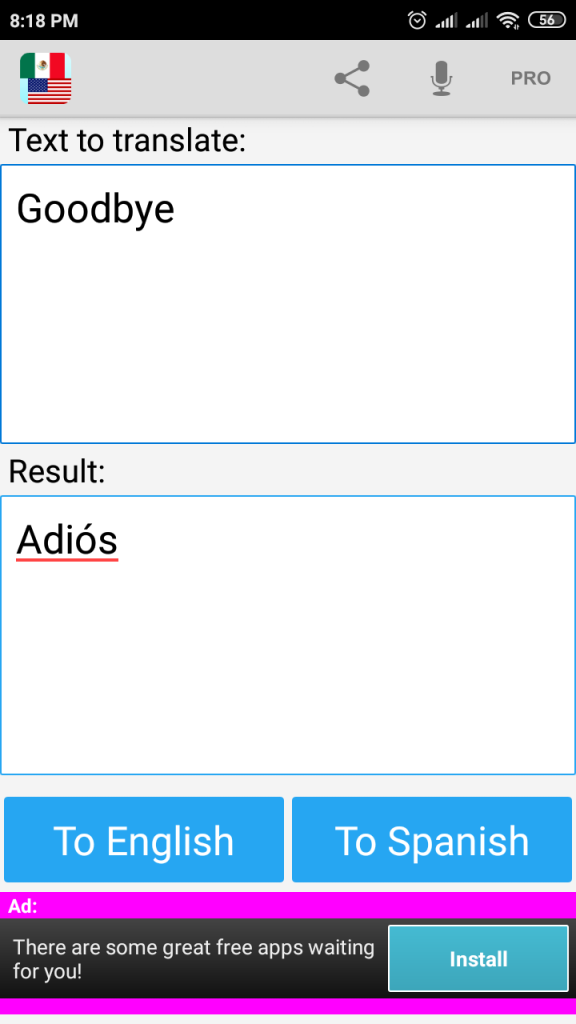 Spanish English Translator offers you the chance to share the translated words and sentences with other people. You can do this by clicking the share icon which is located alongside the microphone icon on the top-right corner of the home screen. There are various apps that you can use for sharing the translated results. You can also use the translations you get in your texts and messages too. Just copy the words shown in the 'Results' text box and paste it in your message or text. This way you can communicate with an English or Spanish speaker in their own language even if you aren't familiar with their tongue. Do remember that this is the free version of this translator app. So, you might have to watch some advertisements before getting your translations.
Features:
Intuitive user interface
User-friendly design and layout
Text editor for entering texts in English or Spanish
Enter texts by using the voice input method
Option to translate text in both Spanish or English
Share the translations with other people
Conclusion:
Spanish English Translator is an app which is aimed towards people and tourists who are trying to learn either English or Spanish. It offers them the chance to write words and sentences in English or Spanish and get them translated into the other language with the touch of a button. It is an excellent translator app to have on your phone if you are planning on visiting a country where Spanish is the primary language.
---
Add a review
Tell us your experience with
Spanish English Translator
RELATED PROGRAMS
Our Recommendations
---
---
---
---